Description
Folding Kayak Specifications
Dimensions of Foldable Kayak
| | | |
| --- | --- | --- |
| | Folded Kayak | Unfolded Kayak |
| Width | 48″ | 31″ |
| Height | 15″ | 120″ |
Kayak Weight
At only 28lbs, the Xplore 1 Folding Kayak is the right choice for your next adventure. Light enough that anyone can carry. Unleash the potential of your next trip with the portability of the Xplore 1 Kayak.
Total Weight in the Xplore 1 should not exceed 250lbs
Foldable Kayak Features
Adjustable Foot Rest Bar
Bow & Stern Handles
High Back Adjustable Seat
Full Size Retractable Tracking Fin (Skeg)
Marine Grade Foam Sponsons
Paddle Ready in Just a Few Minutes
From the Water to Your Vehicle in Even Fewer Minutes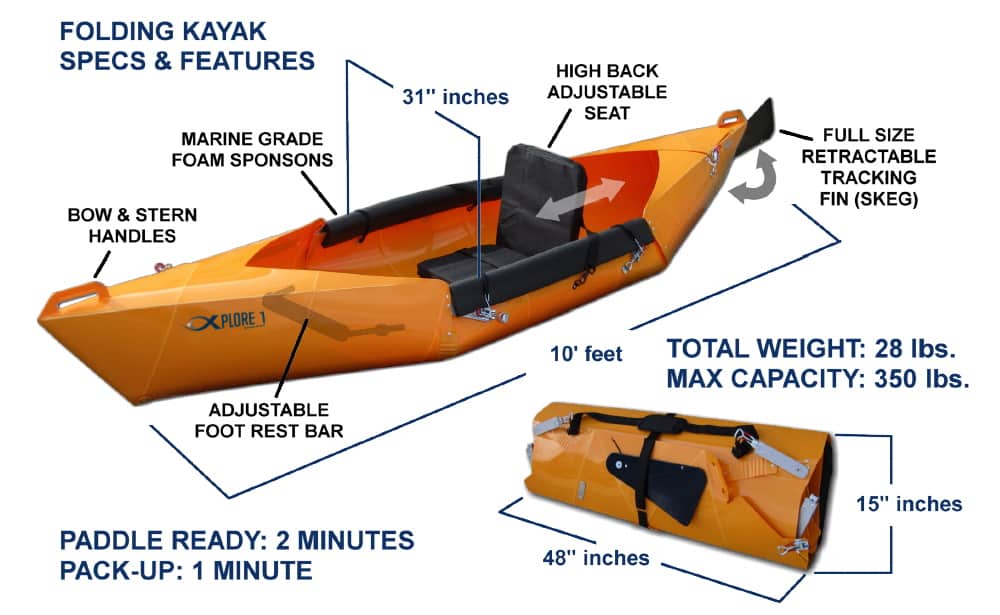 Folding Kayak Benefits
NO STORAGE SPACE NEEDED
NO ROOF RACK OR TRAILER
NO MORE RENTING KAYAKS
PACKS UP WITH CAMPING GEAR
GREAT FOR APARTMENTS & RVs
FITS IN THE TRUNK OF A CAR
HIT ALL THE FISHING SPOTS
KIDS & DOGS LOVE TO RIDE ALONG
WILL NOT POP LIKE AN INFLATABLE!
Kayak Durability
Made from 1/8″ thick solid HDPE.
The carbon-fiber reinforced fold lines will not tear, puncture or split. Ever. Our Limited Three Year Warranty covers you from defects in the manufacturing process. Make sure to Register Your Xplore 1 Kayak HIN # so you can rest assured that you're covered.
Folding Kayak, Take it Anywhere
Fits in almost any car, small enough to fit in any closet. Perfect for RVs and Apartments.
Go Kayaking Anywhere
Carry the Xplore 1 easily with the included carry strap. Lightweight and Durable for any adventure.
Easily Bring More kayaks in one trip
at only 28lbs, the Xplore 1 is an excellent choice for a day out on the water.
Benefits of the Folding Kayak
No more having to take a big vehicle on a trip just to bring a few kayaks. Travel in any vehicle, store in virtually any space you can image. With a footprint smaller than any other foldable kayak on the market
What Makes this Folding Kayak

01/ Wide Flat Bottom for Stability

02/ Retractable Tracking Fin

03/ Adjustable Back Support Seat

04/ Adjustable Foot Rest

05/ Open Cockpit, Lots of Leg Room

06/ Weighs Only 28 Pounds

07/ Rated for THOUSANDS of Folds

08/ Three Year Limited Warranty

09/ Won't Pop Like an Inflatable Kayak